The exterior of new Capella Wagon provides sporty styling, while increasing its overall height in order to have a large cabin space. The exclusive sporty design for the front view is featured on headlight, front grill, and bumper, which differentiates from Capella sedan.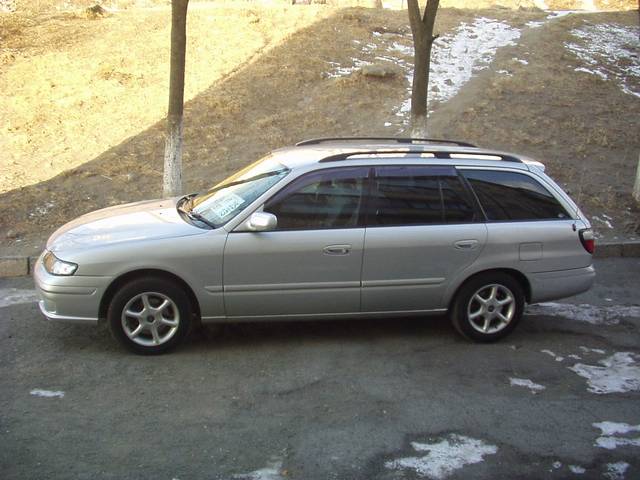 new Capella Wagon S-RX 2000 DOHC 4WD
1.Super arrangement cabin
New Capella Wagon provides comfortable space for all passengers based on the "people always come first" concept," and features flexible seating arrangement to create a optimum passenger cabin depending on the purpose of use.
Exclusive wagon body with longer wheelbase and taller overall height than sedan
* The cabin space of the traditional station wagons is the same size as their base sedan models because they are developed by stretching the rear overhang. The wheelbase of the new Capella Wagon has been extended by 60 mm, enabling the rear seat to be placed backward. The overall height has been also increased by 70 mm for ample headroom, resulting in further extended interior space. In addition, the overall height is 1,525 mm for 4WD models (1,510 mm for FWD models), making it possible to be parked in a common-sized, 1,550 mm multi-level car parking lot.
Superb comfort cabin
* The "Upright packaging" with a taller overall height and raised seating position gives occupants better visibility, excellent comfort in long rides and greater ease of entry and exit. With the upright angle of the seatbacks, the occupants sit up straight in the seat, contributing to the reduction of fatigue in the long drives.
* The rear seatback can be reclined separately to provide comfortable seating for the rear passengers.By removing the headrests and reclining the front and rear seats completely, a large flat space can be created from front to rear, in which two adults are able to lay down.
* Folding armrests are equipped in the left side of the driver's seat and both door sides of the rear seat.
Superb luggage space utility
* With various features for rear seats including 160-mm sliding, 50:50 split-folding, double-folding function and removable seat cushions, the passenger cabin can be flexibly arranged depending on the number of occupants or amount of luggage.The luggage volume can be enlarged up to 537 liters from the least volume 484 liters (measured by VDA standard) once the rear seats are slid forward to the most front position.
* The "Space-up seat" is incorporated in the front passenger seat. Its seatback can be folded forward to form a horizontal surface. It creates a large space for long objects up to 2.8 meters, combined with the double-folding function of the rear seat.The backside of the seat has a resin-finished panel and it can be used as a table.
* In the luggage space, there are several convenient equipments such as a storage bin exits under the floor, and lidded boxes in both sides, and eight tie-down hooks for securing luggage.
* The rear gate features glass hatch that can be opened and closed for easy loading/unloading of small packages
(standard on V-RX, S-RX and SX, and optional on SE).
2. World top level safety features
New Capella Wagon realizes the superb safety level in both active safety and passive safety.
Active Safety
* Higher seating position by "Upright packaging" gives a better visibility and less fatigue environment even in a long driving.
* Its suspension with a high level of stability and the reliable braking system realize a safe driving.
* All models are equipped with 4-wheel anti-lock braking system. In addition, the traction control system which is standard equipment on all FWD models and the full-time 4WD system ensure the exceptional stability in handling and braking, and the excellent obstruction avoiding capability even in adverse weather conditions.
* The A-pillar's gutter molding which prevents the rain flowing into the side windows has improved side visibility in rainy condition.In addition, the rain deflector on the door mirror housing ensures a rain-free mirror surface for excellent rearward visibility.
* For a better recognition by the following cars, a roof spoiler with LED-type high-mounted stop lamp is equipped on all models.
Passive Safety
* Highly rigid and safe body "Mazda Advanced Impact Distribution and Absorption System" consists of the sufficient front and rear crumple zones, which efficiently absorb the energy of a collision, and the rigid structure of the cabin.Incorporating the "Triple-H Structure"which explains the structure like the letter "H", the rear end of the body, which has a large opening of the rear gate, has been precisely and thoroughly reinforced.With the body structure, the new Capella Wagon also beforehand complies with the new domestic side impact regulation and the European new collision safety regulations (including offset frontal impact and side impact) which will be effective in 1998.
# Dual frontal SRS airbag system is standard equipment on all models.
* New Capella Wagon also incorporates SRS side airbag system with head protection function which was adopted in Capella sedan for the first time in the world. (It is standard equipment on V-RX, S-RX, SX, and available as an option on other models.) The side airbag protects the upper torso and the head of front seat passengers, avoiding serious injury from contact with the side window and the center pillar. The side airbag is installed in each front seat's outer seatback bolster to offer optimum protection regardless of seat position.
# All models are equipped with front seatbelts featuring direct clamps and load limiters.In an accident, direct clamps restrain occupants quickly, while load limiters reduce the excessive load to their chest.
3. Excellent high-speed and long-distance driving performance
New Capella Wagon incorporates "D-Burn engine" which is popular on the Capella sedan as well as a V6 engine for smooth cruising. It also realizes the comfortable and stable driving in high-speed and long-distance driving by featuring the highly rigid body and superbly-tuned chassis for stabile handling.
"D-Burn" engine"
The Capella Wagon is equipped with 1.8- and 2.0 liter inline 4-cylinder, 16-valve D-Burn (diluted burn) engine. The D-Burn engines aim increasing the power and use a system that re-circulates a certain amount of exhaust gases back into the combustion chamber. As a result, fuel economy is greatly improved and CO2 and NOx emissions are reduced is the wide range of driving situation.
V6 engine for smooth cruising
A V6 DOHC engine is incorporated in 2.5- liter model. It generates ample torque at low and mid engine speed range with the VRIS (Variable Resonance Induction System) which operates in whole speed range and the reduced resistance in the intake/exhaust system at maximum level.
Engine type
Type KL-ZE
2.5-liter DOHC
Type FS-ZE
2.0-liter DOHC
Type FS-DE
2.0-liter DOHC
Type FP-DE
1.8-liter DOHC
Max. power
(ps/rpm JIS net)
200/6,500
170/6,800
140/6,300
125/6,000
Max. torque
(kg-m/rpm JIS net)
22.8/4,800
18.4/5,000
18.2/4,800
16.3/4,500
Recommended fuel
Unleaded premium
Unleaded premium
Unleaded premium
Unleaded premium
Body & Chassis
The highly rigid and safe body structure, Mazda Advanced Impact Distribution and Absorption System, is incorporated in the new Capella Wagon. In addition to offering superior rigidity throughout the body, it has improved the rigidity of the mounting points of suspension parts. This structure has fully brought out the suspension performance, contributing to the reduction of NVH (noise, vibration and harshness) and the improvement of ride comfort. A MacPherson strut is used for the front suspension, while the renowned Twin Trapezoidal Link (TTL) suspension is employed in the rear.
The four-wheel-drive model in the high grade adopts a self-leveling suspension which automatically senses the degree of the vehicle's squat in the rear due to rear seat passengers and load in the luggage space. It can adjust the overall vehicle height (standard equipment on V-RX, an option on S-RX).
4. Other features
* Leather steering wheel and shift knob is standard on V-RX, S-RX, and SX.
* The simulated wood panel on the center console is standard on V-RX.
* Air conditioning is standard on all models (full-auto air conditioner for V-RX, S-RX, and SX, and manual air conditioner for SE and SV).
* "All-in-one AV navigation system" is available as an option excluding SV. It unifies the VICS navigation function (*2) and audio system including FM/AM digital tuner, cassette player, CD player and TV tuner.
* UV-cut glass for front and front side windows, and dark-tinted glass for rear side, rear quarter and rear window are standard (excluding SV).
* Sunroof with tilt up function is available as an option (excluding SV).
* The corner protectors are fitted to the front bumpers.The protectors can be individually replaced, enabling easy repairs.
(*2) It requires an optional unit to utilize VICS system.
Manufacturer's Suggested Retail Price for each models
Drive
Engine
Grade
Transmission
Tokyo/Hiroshima/Osaka
Nagoya/Yamaguchi
Sapporo
Sendai
Fukuoka


FWD
1.8 liter DOHC
SV
5MT
1,710
1,776
1,746
1,730


4EC-AT
1,798
1,864
1,834
1,818


2.0 liter DOHC
SE
2,053
2,109
2,079
2,073


SX
2,165
2,221
2,191
2,185


4WD
2.0 liter DOHC
SE
2,278
2,329
2,299
2,298


2.0 liter DOHC
(high power)
S-RX
2,424
2,475
2,445
2,444
#
V6/2.5 liter DOHC
V-RX
2,664
2,715
2,685
2,684


# Cold area version:it is standard on the FWD models for Sapporo and Sendai. The cold area version is standard on all 4WD models nationwide.
# The optional price of the SRS side airbag system with head protection function for both driver and front passenger seats is ¥30,000 (standard equipment on type V-RX, S-RX, SX.)
Find more news and information at www.mazda.com