Mazda has established "Dynamic DNA" as a theme for all its passenger vehicles to embody the responsive handling and performance. The aim is to achieve a new level of driving pleasure, which gives the feel of oneness between car and driver. To make this a reality, Mazda has focused on the following areas of driving performance: precise steering and handling; responsive and linear braking; and composed and confident ride.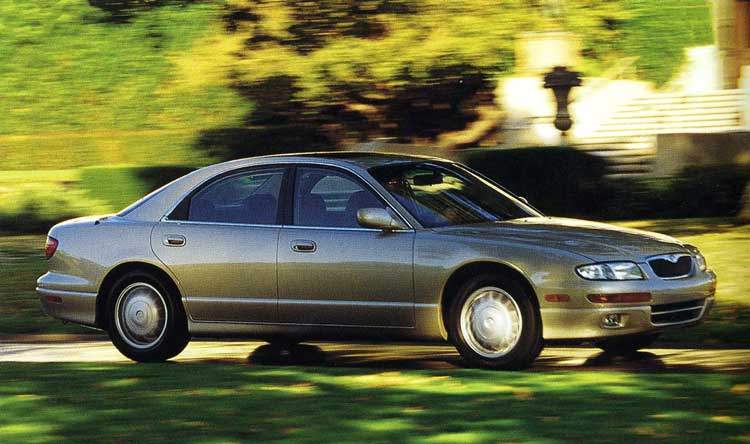 The new Millenia incorporates improvements to its suspension, steering system, body, and brakes designed to realize the Mazda "Dynamic DNA" ideal. Driving, cornering, and braking performance have all been enhanced, resulting in the level of handling stability and smooth ride one would expect from a true luxury sedan.
- The body has been substantially reinforced in many places, with high bend and torsion rigidity. In addition, the links between the four-wheel multi-link suspension and the body have been reinforced, the geometry modified, and the damping force optimized for even more precise and nimble responsiveness. Straight-line stability and rolling feel have been improved for an overall feel of stability and excellent maneuverability. The steering system features more rigid torsion bars and further fine tuning of the power steering mechanism. This provides smooth and direct steering responsiveness at all speeds. The new Millenia provides excellent maneuvering stability and the comfortable ride one expects from a luxury sports sedan.
- The 25M sports package provides a sportier look featuring a rear stabilizer as well as 17-inch tires and aluminum wheels.
- Four-wheel steering (4WS) is standard on the 25M luxury package and available as an option, along with a rear stabilizer, on the 25M.
- Braking performance is improved through the employment of oversized 16-inch front disc brakes. Also, the vacuum boosters have been fine tuned for more responsive and linear braking characteristics.
- Two V-6 DOHC engine options are available: 2.5 liter and 2.0 liter. Both provide high output and smooth running performance.
- Revised shift-scheduling enables easier shifting in acceleration improving performance.
Find more news and information at www.mazda.com